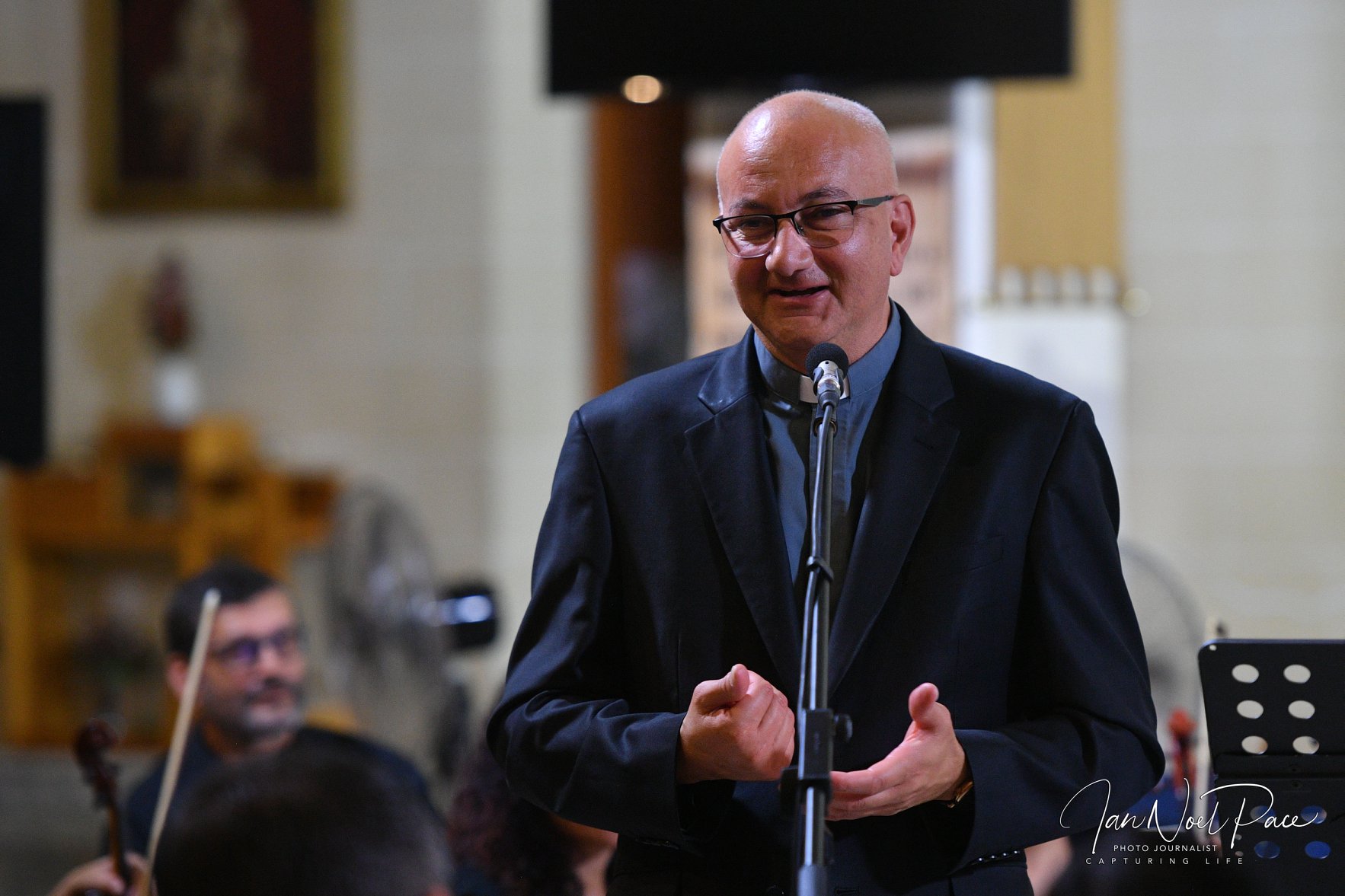 I was born into a family built on solid christian values. My uncle also happened to be a much loved priest in Luqa who worked fervently amongst youths within this locality. I also used to attend MUSEUM regularly and attended secondary school at the Minor Seminary. I can recall that I used to attend vocational meetings right from the beginning of my secondary education but I feel that the decisive moment when I took the turn towards priesthood was when my uncle, the priest I mentioned earlier, passed away suddenly in 1983 at the age of 54. I was just 16 years old at the time. It was then that I realised what a great impact he had made on a lot of people, mostly teenagers. The sorrow shown for his loss helped me feel the Lord's calling to follow in my uncle's footsteps and continue on his work.
In 1987, I entered the Seminary to start my formation and studies for my priesthood. My Seminary days were a wonderful time for discernment and better understanding of the love that God has for me. This time of formation introduced me to many pastoral realities that helped me perform my pastoral work better after my ordination. Featuring amongst these realities were those tied to persons with varying disabilities and in actual fact I had started to interest myself greatly in this sector because I felt that the Church in Malta could do much more to ensure that these people participated equally in the life and work of the Church.
I was ordained a priest 25 years ago, on the 5th of July 1996 and have since then worked in various parishes amongst which were Tal-Ibraġ, Għaxaq, Marsaskala and Siġġiewi. On October 1st 2008, I started working on something that was very close to my heart, at Dar tal-Providenza, a Home founded by a sorely missed Mons. Mikiel Azzopardi, a dynamic priest and a saint who inspires me a lot up to this very day.
Whenever I look back, I thank the Lord who called me to serve him in this calling, so that I can be an instrument in his hands to pass on his love to others.  
Authored by: Fr Martin Micallef
Jiena twelidt f'familja b'valuri Nsara sodi. Ħu missieri kien ukoll saċerdot maħbub ħafna f'Ħal Luqa li ħadem ħafna fost iż-żgħażagħ ta' din il-lokalità. Barra minn hekk kont nattendi regolari l-Mużew u għamilt is-sekondarja fis-Seminarju Minuri. Sa mill-bidu tas-sekondarja bdejt nattendi l-laqgħat tal-vokazzjonjiet imma nħoss li l-mument deċiżiv li nibda t-triq tas-saċerdozju ħadtha meta z-ziju l-qassis miet ħabta u sabta fl-età ta' 54 sena fis-sena 1983 meta jien kelli 16-il sena. Dakinhar irrealizzajt x'impatt sabiħ kien ħalla fuq ħafna nies, l-aktar żgħażagħ. Id-dmugħ ta' dawk li bkewh għenni nħoss lill-Mulej isejjaħli biex inkun jien li nkompli l-ħidma tiegħu.
Fis-sena 1987 dħalt is-Seminarju biex nibda l-formazzjoni u l-istudji tiegħi għas-saċerdozju. Iż-żmien tas-Seminarju kien żmien sabiħ ta' dixxerniment u għarfien aħjar tal-imħabba li Alla għandu għalija. Dan iż-żmien ta' formazzjoni laqqagħni ma' ħafna realtajiet pastorali li għenuni biex inkun nista' nwettaq aħjar il-ħidma pastorali tiegħi wara l-ordinazzjoni. Fost dawn ir-realtajiet kien hemm dik tal-persuni b'diżabilità u fil-fatt kont bdejt ninteressa ruħi ħafna f'dan is-settur għax ħassejt li l-Knisja f'Malta tista' tagħmel ħafna aktar biex tassigura li dawn il-persuni jkollhom sehem indaqs fil-ħajja u l-ħidma tal-Knisja.
Kont ordnat saċerdot 25 sena ilu, fil-5 ta' Lulju 1996 u ħdimt f'diversi parroċċi fosthom, Tal-Ibraġġ, Ħal Għaxaq, Marsaskala u s-Siġġiewi. Fl-1 ta' Ottubru 2008 bdejt ħidma għal qalbi ħafna fid-Dar tal-Providenza, Dar li beda l-mibki Mons. Mikiel Azzopardi, qassis dinamiku u qaddis li jispirani.
Meta nħares lura, nirringrazzja lill-Mulej li sejjaħli biex inservih permezz ta' din is-sejħa, li permezz tagħha nista' nkun strument f'idejh biex inwassal l-imħabba tiegħu lill-oħrajn.